TOP IB SCHOOLS IN BANGALORE
The International Baccalaureate(IB) offers an education of international standards to students, it supports thousands of IB World Schools(certified IB schools) in over 130 countries including India. The following programmes are offered by the IB at various levels :-
1. The Primary Years Programme (PYP) (Kindergarten to Class 5).
2. The Middle Years Programme (MYP) (Class 6 to Class 10).
3. The Diploma Programme (IBDP) (Class 11 to Class 12).
Bangalore has its fair share of IB World Schools. Given below is a list of the top IB Schools in Bangalore.
1. INDUS INTERNATIONAL SCHOOL

Indus International School was founded in 2003. It is one of the largest, and most diverse schools in Bangalore, with over 1,200 students from 33 countries of whom 30% are residing at the campus. They offer both weekday boarding and full time boarding along with residencies for house parents. The school has a 40 acre campus in the Sarjapura area of Bangalore. It is an IB and CIE accredited school. Indus international also has branches in Hyderabad, Pune and Chennai.
INFRASTRUCTURE:
Library, e-library
Computer laboratories
Science laboratories
Playground and Gymnasium
Art and craft rooms
Music and dance rooms
Auditorium
SPORTS AND EXTRA CURRICULAR ACTIVITIES:
Swimming
Horse riding
Squash
Badminton
Athletics
Student Council
Educational tours and excursions
Personality development workshops
For further details, visit the official website
2. BANGALORE INTERNATIONAL SCHOOL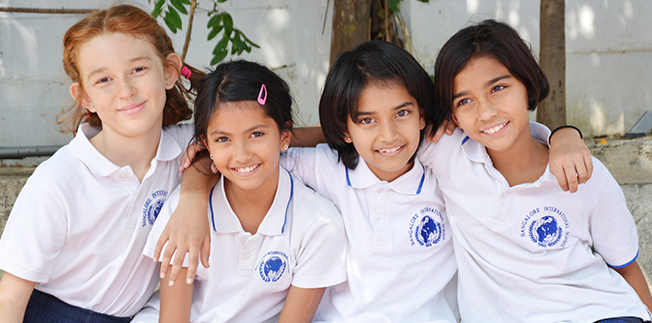 The Bangalore International School is the oldest of all international schools in the city and it was established in 1969. The school was founded by American woman Eloise Bennet who wanted a school which follows the North American teaching methods. BIS has students from around the world and they follow both IB and CIE curriculum .
INFRASTRUCTURE:
Computer laboratories
Science laboratories
Home economics laboratory
Playground
Library
Fine arts studio
Dance and performing arts studio
SPORTS AND EXTRA CURRICULAR ACTIVITIES:
Throwball
Swimming
Basketball
Football
Pottery
Painting
Music classes – vocal and instrumental
For further details, visit the official website
3. STONEHILL INTERNATIONAL SCHOOL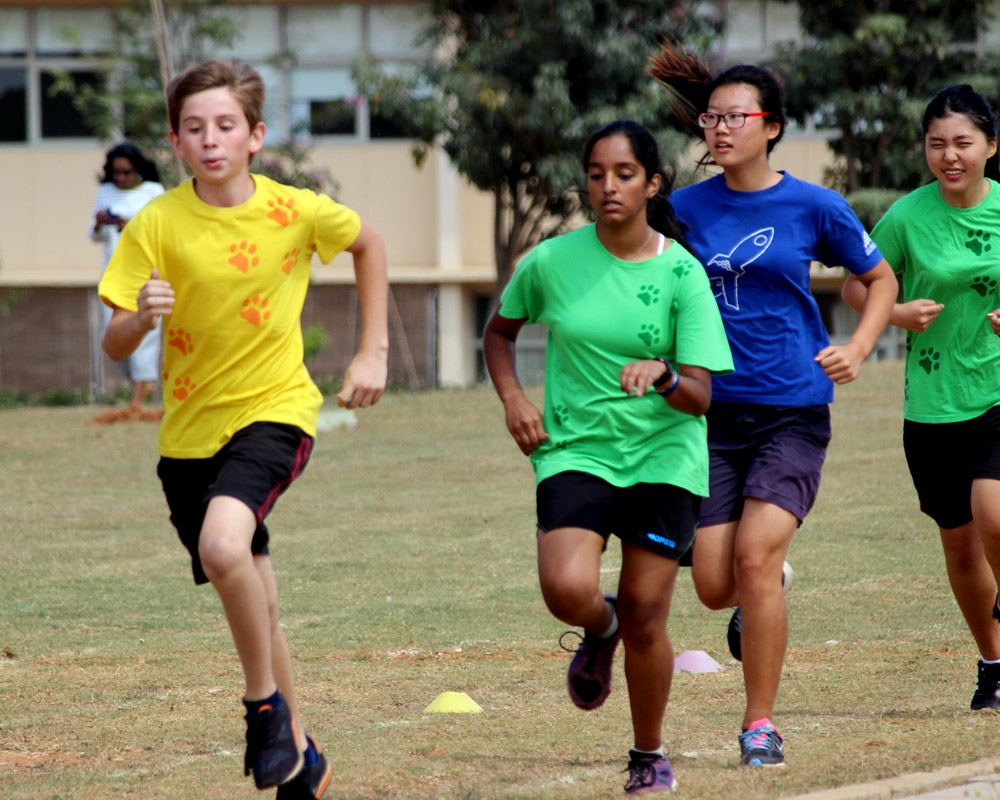 Stonehill International School was founded in 2005. The school is a co-ed institution offering IB and IGCSE education from pre-primary to class XII. It is located in a spacious 34 acres of compound which is close to the airport and away from the noise and pollution of the city. The school has both daycare and boarding facilities.
INFRASTRUCTURE:
Libraries
Music room
Gymnasium
3 Playgrounds and kids play areas
Art studio
Computer and technology laboratories
Science laboratories
SPORTS AND EXTRA CURRICULAR ACTIVITIES:
Football
Athletics
Basketball
Swimming
Tennis
Creative Arts – music, dramatics, dance
Painting and carving
For further details, visit the official website
4. OAKRIDGE INTERNATIONAL SCHOOL

The school is located in Sarjapur Hobli, Bangaluru. It is a part of the world's leading family of premium schools, Nord Anglia Education. This brings a wide range of benefits to their students including benefiting from their global campus and collaboration with MIT. It is listed as one the best IB continuum schools in the city.
INFRASTRUCTURE:
Multi-faculty smart classrooms
Computer laboratories
Science laboratories
Arts and crafts activity rooms
Gymnasium and Fitness Center
Library – includes an exclusive toys library for younger kids
Auditorium
Recreation Park
SPORTS AND EXTRA CURRICULAR ACTIVITIES:
Swimming
Cricket
Skating
Tennis
Basketball
Athletics
Adventure sports
For further details, visit the official website
5. EBENEZER INTERNATIONAL SCHOOL BANGALORE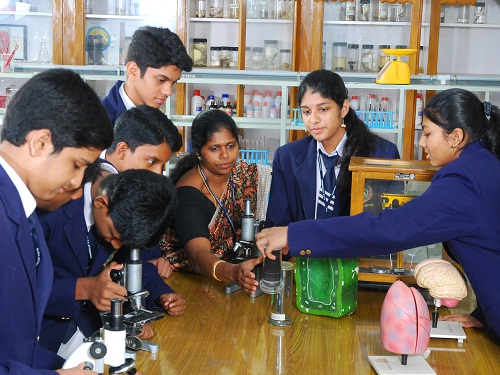 EISB is one of the most reputed day cum residential school in Bengaluru. The school offers both national and international curriculam. School offers day schooling and boarding facilities and has a 12-acre campus with amenities enabling development of physical activities, sports, and art alongside academics. The school has a 9.15-acre campus with auditoriums, classrooms, and playgrounds, powered by clean energy resources.
INFRASRTUCTURE:
Science center and laboratories
Computer laboratories
Library
The Globe Art Auditorium
Olympia Sports Complex
Center for performing and fine arts
Conference hall
Sports and extra-curricular activities:
Billiards
Table tennis
Football team
Swimming
Cricket
Athletics
Basketball
Skating
Theater and music
For further details, visit the official website
Get personalised online tutoring for International Baccalaureate from the comfort of your home. Request your first lesson at Vidyalai.