Everything You Need to Know About The IB Diploma Programme
Parents and students are noticing a global tendency towards a specific type of education - the IB Diploma, which is equivalent to the A Level certificate, or the Advanced Placement Programme.
There is a consensus about the benefits connected to joining the IB curriculum, especially since colleges may award students credit for IB coursework. Moreover, it adopts a largely student-centric approach to learning, and thus the curriculum can be deemed to encourage a liberal and open-minded manner of learning.
Nowadays, the IB Diploma Programme is a lot more popular in India than when it first got offered in 1997, by Pune-based Mahindra United World College. One can easily find an IB-accredited school in any city of India, with 154 IB schools within the country offering the Diploma programme in 2022.
On a larger scale, especially in countries within Asia, education sectors are beginning to support "the development of future citizens who exhibit 'cosmopolitanism', i.e. people who are able to move comfortably between diverse socio-cultural contexts, exercise global citizenship and work together for the betterment of the world", says researchers Chun Lai et al., from the Faculty of Education at the University of Hong Kong.
It is this concept of 'International Mindedness' that makes the IB Diploma Programme stand out against various other secondary school education programmes. This concept also gives IB its breadth of scope while it prepares students for their university education.
What is the IB Diploma Programme?
The IB Diploma Programme is taught to students between the ages of 16 - 19, and it was founded by The International Baccalaureate Organization (IBO), a non-profit educational organisation with headquarters in Geneva, Switzerland.
Students are evaluated with their examination results as well as with other coursework such as oral presentations, practical work and written work. These works will be internally graded by the classroom teacher, and then externally verified by an appointed IB moderator.
The IB Diploma Curriculum is extensive, with students picking six subjects according to their preferences - one subject from each of the six subject groups. Students are graded on a total of 45 points at the end of the Diploma Programme. If the student has scored a total of 24 points or above, they will receive their Diploma.
How does the Point System work in IB?
Each subject has 7 points. There are 6 subjects in total - this adds up to 42 points.
There are 3 more points that students can gain with the IB Core subjects - consisting of Theory of Knowledge (TOK), the Extended Essay (EE), and CAS (Community, Activity and Service). Thus, there are 45 points in total.
CAS is not graded, but requires compulsory participation to allow students to take part in a range of activities in order to meet eight learnng-outcomes.
To be eligible for the Diploma, students must receive at least a D in both of the IB Core subjects that are graded (Theory of Knowledge and the Extended Essay) - which adds up to 0 points out of 3. Anything less than a D for IB Core will not be eligible for the Diploma award.
Also, as mentioned earlier, students need to achieve a combined score of 24 points across their 6 subjects to qualify for the Diploma award.
Thus, the Point System is the criteria for achieving the Diploma at the end of the two years.
How is IB DP different from the Advanced Placement (AP) Programme?
The Advanced Placement Programme is also a high-school level programme which aims to prepare students for college and university education. AP classes can also be challenging in nature, just like IB, which is why colleges consider giving extra credit and allowances for students who successfully complete these programmes.
The main difference between them is that AP classes are focused on preparing students for the United States curriculum, and is more nationally oriented, while the IB Diploma Programme is more internationally recognised, and thus IB students can apply to any college and still achieve credit benefits - credit is not contained to colleges in the United States only.
At Princeton's university admissions website, you will find a segment stating that the Advanced Placement Programme, the IB Diploma Programme, and Cambridge A Levels are all considered as somewhat 'rigorous courses' that are challenging in nature, and thus a great academic opportunity to explore during school life.
Is IB better than AP?
In a way, IB is more focused on developing specific skills in the students, due to it's student oriented approach. This means that the IB Diploma Programme is not just a preparation for the main external examinations (as is normal in exam-centric educational systems), but rather focuses on developing critical thinking skills, alongside presentation and writing skills, in the students.
However, the AP Programme is more flexible. You can take an AP exam without being enrolled in an AP Programme at all - AP classes can be taken as add-ons while you are enrolled in other education boards, for when your school is not offering subjects that you really would like to pursue, such as Art History, or Music Theory, or Computer Science Principles.
This means you can take up one or two AP exams if you can put in extra time for self-study, outside of your regular classwork, for a subject that you have a proficiency or interest in. This is not possible in IB - you have to be enrolled in an IB school, and take IB classes, in order to take an IB exam. The IB Diploma is a complete, fully structured programme.
Is it hard to score well in IB?
Generally, the IB Diploma is considered to be a pretty intense programme. This usually means that students who are not high achievers, or are uninterested in studying, are naturally discouraged from picking it - a process of self selection. A lot of students are thus discouraged from the IB syllabus and choose to continue with their nation's locally available educational systems.
This also suggests that most students who pick IB are already interested in academic progression, and are up for the challenge. This doesn't mean you need to get great grades before choosing the IB Diploma Programme - you just need to make sure you are willing to offer your dedication to improve.
The key to a good score in IB is consistency. The Programme requires students to put in consistent efforts, and so procrastinating on handing in your assignments or preparing for your internal assessments, will likely come back to bite you later. This, however, is a standard consequence for any specialised curriculum - and this remains the same for IB. But if you have the drive, you are well on your way to scoring 7s for your subjects.
What are the IB Subject Groups?
There are 6 subject groups in total. You get to choose whether you want to study your subjects at a standard level (SL) or a higher level (HL). SL subjects require a minimum of 150 hours of instruction time, and HL subjects are recommended by IB to have a minimum of 240 hours of instruction time.
This is because HL subjects require either additional skills (criteria) from you, or would have additional assessments for you to complete - the HL syllabus is more extensive. In a given year, students must pick three to four higher level subjects, and can take the rest of their subjects at standard level.
Students choose their subjects from the following subject groups:
Studies in language and literature,
Language acquisition,
Individuals and societies,
Sciences,
Mathematics, and
The Arts.
Regarding the six subject groups, students can choose their six subjects from each of them. Or, students can choose to not pick a subject from the Arts subject group, and instead, opt for an additional subject in the Sciences, Individuals and societies, or Languages subject group.
In short, the subject groups and their respective points are listed in the table below: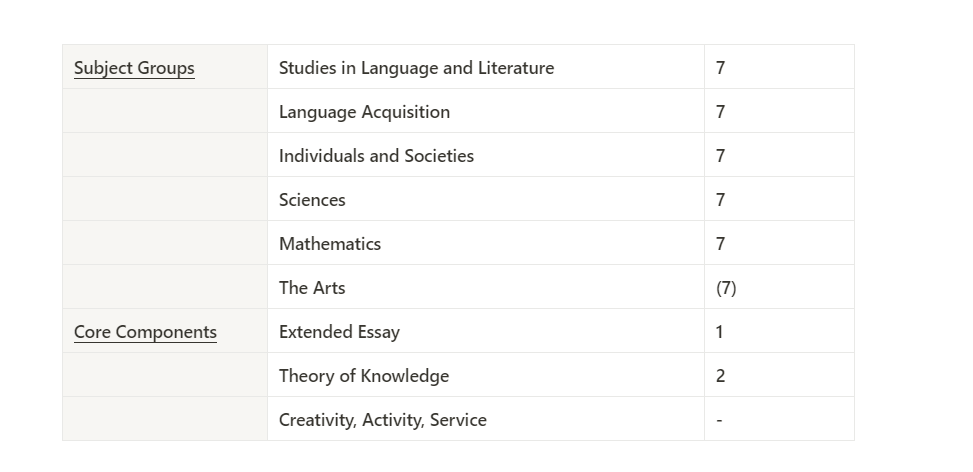 What are the Core Components about?
The Extended Essay (EE)
This Core Component asks you to independently research and investigate a topic of your choice - anything from the coursework that interests you - and write an essay of up to 4000 words.
You will get direct supervision from a teacher who is appropriate for your research subject, and you are advised to spend around 40 hours in total for the EE - so don't leave it till the last minute, and make sure to pick a topic you really like.
The Theory of Knowledge (TOK) Course
This Core Component is also mandatory, and it introduces students to philosophically inquire into their subjects as well as related concepts. It encourages students to consider any topic without bias, and explore the nature of knowledge across various disciplines.
IB recommends at least 100 teaching hours to be provided to you over the course of 2 years, for you to acquire the knowledge needed to complete the two TOK assessments, which are:
an oral presentation (TOK Exhibition), and
a 1600 word essay (TOK Essay).
Note: There are TOK links to each subject that you will be picking, which will make it easier for you to choose topics for your oral presentation and TOK Essay, so make sure to note down any correlations you find during your TOK classes.
Creativity, Activity, Service (CAS)
This Core Component is mandatory since it aims to foster your awareness outside of an academic perspective, and cultivate an active attitude towards life in general, by encouraging your enrolment into a nice CAS programme that suits you.
The CAS programme you pick will be arranged by your school, and generally start at the beginning of your IB Diploma Programme. It will continue regularly after that, usually on a weekly basis, for at least 16 - 18 months, to ensure you have fulfilled your CAS requirements.
What next?
If you are considering switching to IB from a national or local educational board, you might be a bit worried about your transition into the IB Programme, especially its grading rubrics, which can seem quite rigid in the beginning. Furthermore, a good portion of IB Diploma students will have already gotten their foundation from a similar internationally oriented syllabus, such as Cambridge IGCSE, or IB MYP (IB's Middle Year Programme).
However, with consistent practice and good guidance, you will be able to catch up by the end of your first year (Year 1) of the Diploma Programme, and get at least solid 5s for all your subjects. This way, you can focus your Year 2 for getting the best grade possible.
There are various ways to ensure you get a great foundation during Year 1, such as:
having an organised schedule,
preparing early for assessments and making your own notes,
being aware of the subject syllabus,
keeping a record of all your works, and most importantly,
be proactive and be confident to ask for help.
The last one, especially, is of great importance because you might find yourself with lower grades than you anticipated, especially in Year 1 of the IB Diploma Programme. This often causes confusion in students, because you might not know exactly what you are doing wrong, or how you can improve your performance.
For IB, the teachers will not approach you or coax you to improve your grades - you have to take the first few steps by yourself, if you feel the need to improve. But don't worry.
For tricky topics, always seek ways to engage in a discussion outside of the classroom, with either your peers or your teachers. To be a top achiever, or to simply comprehend something taught in class, never feel inferior when it comes to asking for support. It is an initiative you are taking for actively engaging with your studies - always ask for help.
Certain curriculums and subjects can be difficult, and sometimes you might require the help of a friend, a teacher, or maybe an expert tutor to help you score the best grade possible. We are here for that reason - with live online one-to-one classes on our platform, from dynamic, certified tutors handpicked from across the world. If you aren't satisfied with your tutor, your first session will be free.
If you find yourself unsure about how to get the score you want, request for a lesson in any subject by clicking here, and take a step towards the score you know you could achieve, with the right guidance.