Understanding Cambridge AS and A levels
The International General Certificate of Secondary Education (IGCSE) is one of the most popular certifications for Secondary school education offered by the Cambridge Assessment International Education (or simply Cambridge, formerly known as CIE -Cambridge International Examinations) which is a provider of international qualifications, offering examinations and qualifications to 10,000 schools in more than 160 countries.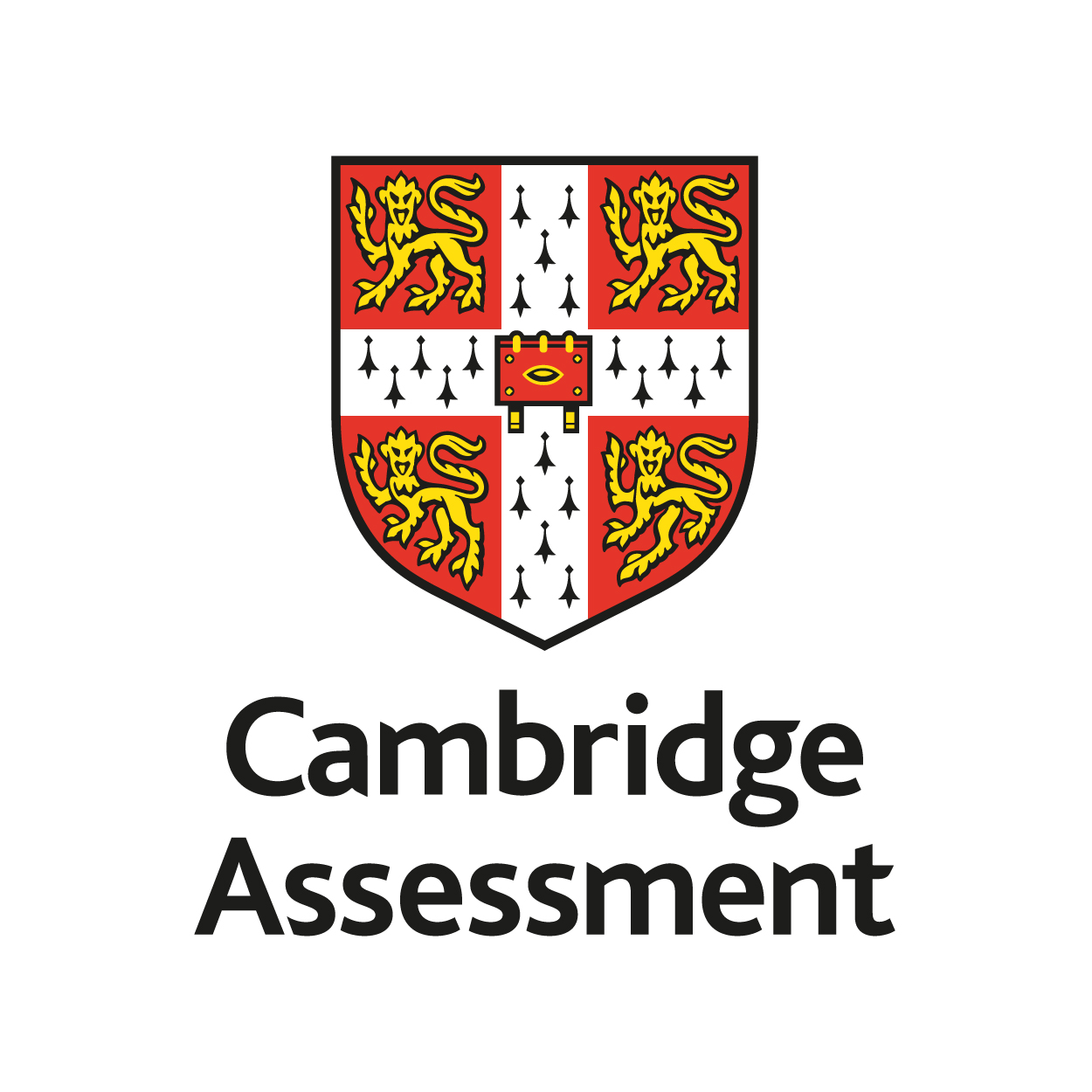 The Cambridge University in order to improve the prevailing standards of education in the UK planned to set up a syndicate for conducting exams for students who weren't part of the University and for undertaking inspection of schools. Thus the "Local Examination Syndicate" was set up in the year 1858 to perform the before mentioned tasks as an attempt to improve education standards. For the first time in 1858, 370 school candidates in 7 English cities sat exams set by the University of Cambridge. Later the Syndicate began examining internationally in 1864 and gained popularity in all major countries with English as the medium of education. (Initially, it was the Wealth countries that conducted this examination). In the year 1998, the Syndicate adopted the name - Cambridge Assessment International, which today is the largest provider of International education programmes in the world, offering qualifications for students from the age of 5 years up to 19 years.
The programmes/qualifications provided by the Cambridge Assessment International are divided into four broad categories based on the age of students the programmes are offered to:
Cambridge Primary (5 to 11 years)
Cambridge Lower Secondary (11 to 14 years)
Cambridge Upper Secondary (14 to 16 years)
Cambridge Advanced (16 to 19 years)
Cambridge Advanced Programme: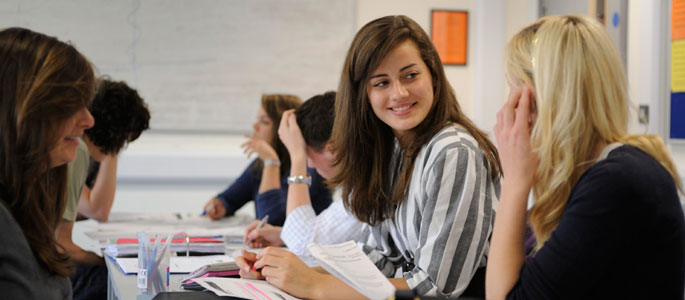 Till the Cambridge Upper secondary level, the emphasis is on helping students gain a broad knowledge base by way of training them in different subjects across disciplines and helping the student assess their abilities and choose their path for future education wisely. The Cambridge Upper Secondary level prepares students for the Cambridge AS and A levels, however, it is not compulsorily required that the student be Cambridge Upper Secondary qualified to opt for Cambridge AS and A levels. Any recognised school certificate equivalent to the Cambridge Upper Secondary level certificate is enough to pursue either AS or A level.
Cambridge Advanced is typically for learners aged 16 to 19 years who need an advanced study to prepare for university and higher education. It offers learners two routes:
Cambridge International AS & A Level, and
Cambridge Pre-U ie, Pre-University.
Cambridge International AS and A levels:
Cambridge International AS and A Levels are internationally benchmarked qualifications providing excellent preparation for university education. They are part of the Cambridge Advanced stage.
Key Highlights of the Programme:
Schools and learners find Cambridge International AS and A Levels very flexible.
Schools can offer almost any combination of the wide choice of subjects available.
Learners have the freedom to select the subjects that are right for them – they either follow a broad course of study or specialise in a particular area.
The emphasis is on in-depth knowledge accumulation in the chosen subjects.
Cambridge International AS and A Level syllabuses have been created specifically for an international audience. The content of International AS and A Levels are carefully devised to suit the wide variety of Cambridge schools worldwide and avoid any cultural bias. The structure and administration of Cambridge International AS and A Levels are also designed to meet the needs of Cambridge schools and learners around the world.
Cambridge International A Level is typically a two-year course, and Cambridge International AS Level is typically one year.
AS and A level Curriculum:
The AS and A level curriculums are designed with the objective of preparing students for University level education. The Syllabus of the CI AS and A levels of Cambridge advanced is expansive and provides students with an in-depth knowledge and understanding of the various subjects.
The AS and A level programmes train the learners with an ultimate aim to develop the following skills:
Applying knowledge and understanding new as well as familiar situations.
Handling and evaluating different types of information source.
Thinking logically and presenting ordered and coherent arguments.
Making judgements, recommendations and decisions.
Presenting reasoned explanations, understanding implications and communicating them logically and clearly.
The Cambridge International Board, under the AS and A level programmes, offers a wide spectrum of subjects to choose from. There are as much as 55 subjects in offering and schools across the world offer almost all types of combinations of these subjects. Availability of multiple subject options provides flexibility to schools as to building an individualised curriculum, and learners can choose to specialise in a particular subject area or study a range of subjects.
The 55 subjects are divided into 6 broad categories, three major categories are given below: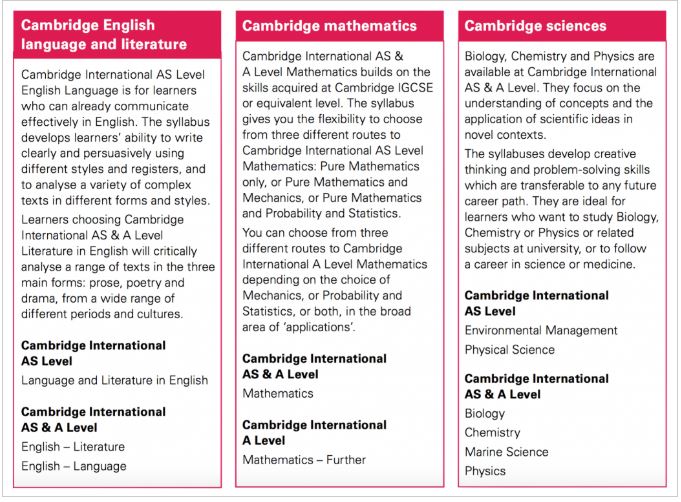 Assessment options:
The Students can choose from a range of assessment options to gain Cambridge International AS & A Level qualifications:
Take the Cambridge International AS Level only. The syllabus content is half a Cambridge International A Level.
Take a 'staged' assessment route – take the Cambridge International AS Level in one examination series and complete the final Cambridge International A Level at a subsequent series. AS Level marks can be carried forward to a full A Level twice within a 13 month period.
Take all papers of the Cambridge International A Level course in the same examination session, usually taken only at the end of the course.
Cambridge International AS & A Level examination series conducted by the Cambridge Assessment International is held twice a year, in the months of June and November. Results for the same are issued in August and January respectively.
There are multiple educational boards across countries that provide International education and the most notable among them are the IGCSE(Cambridge) and the International Baccalaurate. The Cambridge Assessment (CA) has a lot of credibility attached to it given that it was established by the University of Cambridge. The curriculum designed by the CA aims to make learners, truly global citizens who are knowledgeable and are conditioned to constantly engage in activity that adds value to the society and the same time remain highly competitive and adaptive. Thus for those seeking and International Education at the high school level Cambridge AS and A levels offered by the Cambridge Assessment International would be a suitable option.
Vidyalai offers online interactive one-to-one classes from subject experts for IGCSE (all) subjects, providing a personalized learning experience i.e. individually-paced and targeted learning.